Dirty Water - Vibratory Solution Recycling System - Request Information
Vibratory solution is gravity fed or pumped to the dirty tank. A 1/2" air diaphragm pump feeds the dirty solution to centrifuge at up to 10 gpm.Centrifuge removes particles down to 3 micron and returns solution to clean tank. A 1/2" air diaphragm pump, draws from clean tank and pumps solution through two 1 micron parallel cartridge filters, through a flow control (adjustable) meter and back to vibratory system.
The clean tank constantly overflows to dirty tank. When solution level drops too low, a float switch tells the make up system to add solution.
Benefits
Water Savings
Solution Savings
Ease of Cleaning
Low Cost of Operation
Centrifuge Specifications
Sludge Capacity 1 Gallon
Manual Clean
Polyethelene Liners (5 Shipped with machine)
Aluminum Bowl
Options
115 Volt Supply for Make up Pump Metering Valve to Mix Solution as Water Comes In
Stainless Steel Centrifuge Bowl and Liner
Electric Solenoid for Hydrominder
Dimension
3.5' wide x 6' long x 6' high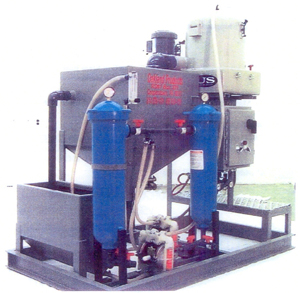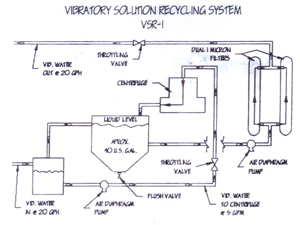 Features
Pumps

2 each 1/2" Air Diaphragm
Automatic Make up

Filtration

3 micron by centrifuge
1 micron by large capacity cartridge filters

Positive control of Fluids to Vibratory bowl
Skid Mounted unit
One Point Hookup for Utilities
Air, Filter/Regulators Supplied for Pumps
Carbon Steel Base (painted)
304 SS Tanks
Power Requirements
240V 3PH 22AMPS or
460V 3PH 12AMPS
Air Supply 15 CFM @ 60 PSI