Oil Mist Eliminators
Oil Mist Eliminators are sometimes referred to Oil Mist Collectors, Filters, Extractors, or Oil Mist Separators.
Oakland Products offers Aeromax high quality, high-efficiency emission control devices for Metalworking and Finishing industries. Offering products on the leading edge of technology and development.
Most fluid, mist, bacteria and smoke separated without filters
Evaporation and odors prevented by rapid fluid draining
Vapors and particles removed approaching zero emissions, 0.020 mg / m3
Above all, AEROEX from Oakland Products offers a low life-cycle cost, low maintainance at a competitive price.
AEROEX Oil Mist Eliminators can be used together for larger systems and available in 400 cfm, 600 cfm, 800 cfm, 1100 cfm and 2000 cfm.
Engineered for Success in Stages!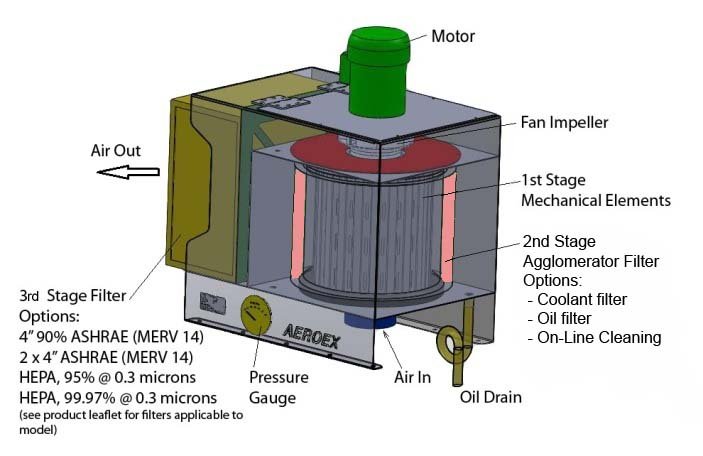 The 1st stage innovative mechanical elements separates 90 - 95% of the mist and solids. The fluid quickly drains out of the air flow, reducing evaporation and odors.
The 2nd stage agglomerator is an unique depth filter, layers of stainless steel wire mesh weaved with oil attracting fibers. Efficiency is high as the air travels though a bed of coarse and fine fibers at a low velocity. Channels between each layer provide exceptional fluid drainage. Optional is a On-Line Cleaning System for flushing out congealed coolant concentrate and fine solids. Alternatively, the media can be cleaned in placed with coolant or water hose. On most applications, cleaning is only every 2-5 years. The media is very durable, it even looks bullet proof, lasting 10-15 years on most applications.
Four (4) filters:
Coolant high efficiency (standard)
Coolant highest efficiency
Oil high efficiency
Oil highest efficiency
Cross Flow Filter Design provides optimum separation and oil drainage.
In up-flow mist collectors, the oil must drip directly into the air flow and even onto the filter below. This can greatly reduce air flow and filter life.
The 3rd stage filter is a policing filter to capture sub-micron mist, smoke and bacteria. A selection of filter options are available from 90% ASHRAE (MERV14) to HEPA 99.97% @0.3 microns. Our HEPA 95% @ 0.3 microns is made exclusively for oil mist with a heavy duty microglass media. No other product holds as much oil or lasts as long. Typical life is 2 to 4 years.
Mist collection has never been less expensive !